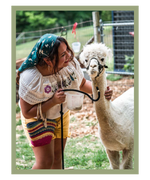 Let's start with why I love llamas, because you may have not known that before!
I love llamas! I've been fascinated by them since I first saw them on my travels in South America. The first time I visited Bolivia, I couldn't wait to see Salar de Uyuni and it's beautiful reflective salt flats. It's one of the most popular tourist destinations in Bolivia, and well worth seeing. As well as llamas, it's famous for its alpacas and vicuñas
(close relatives of the camel)
. There are some pretty big differences between these three beautiful creatures—llamas are usually between 5.6 and 5.9 feet tall, alpacas range from 2.7 to 3.2 feet in height, and vicuñas are slightly smaller again at 2.5-2.8 feet tall.
Llamas and alpacas have become my favorite animals since I got to see them up close, and now I can't get enough. My friends and family always send me llama stuff because they know how much I love them. My parents are probably going to kick me out of the house if I bring more llama things!


I'm so glad people started associating me with llamas! I originally designed my new logo on Canva, but my best friend
Jodie
redesigned it for me. If you need a new logo, she's your girl! And so, I felt it was a perfect representation of my personality. Especially the Bolivian South American roots.
See the before and after: