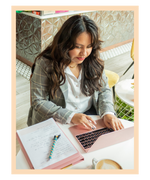 Hola and welcome to my blog! My web designer, Dani, forced me to write these blog posts haha I know I know to improve my SEO. Will people even read these?! Let's see. Shoutout to Dani Cervantes from WanderSouls Creative who has given Tainable the beautiful makeover. Highly recommend her and her team for redesigning your website!
So, how did I get to where I am today? Here's a small summary of me: I was born and raised in Los Angeles, but moved to Hudson County, New Jersey when I was three years old. My dad got promoted from a cook to manage a Johnny Rockets franchise and my parents are Bolivian—hence why my logo is a llama because it reminds me of my roots and they're so cute and fluffy! 
I'm a Sagittarius who loves to socialize and make friends wherever I go. Growing up, I was always the leader of the pack when we played games, and I loved trying on my mom's clothes and makeup whenever I could. Many years later, my dream became a reality when I went to the Fashion Institute of Technology, interned for Anna Sui, helped set up for New York Fashion Week, worked in wholesale sales and admin data entry (not so glamorous but necessary), and planned events from managing social media accounts to coordinating large-scale events.
When I was laid off from my corporate job, I decided to take the severance package and spend a few months relaxing. I spent a lot of time on TikTok and saw a young girl talking about how she started her own online business. I had always wanted to have my own boutique, so it seemed like a far-fetched dream. But then I thought if she could do it, so could I—and that's how Tainable was born. 
I have a lot of support from friends, and I am lucky to be a part of a community of all women entrepreneurs. The majority of the women I have met have been more than supportive in sharing their advice whether it's what popup to do, where to get stuff printed etc. If you are an aspiring entrepreneur, don't be afraid to slide into my DMs!